Aadhaar needs to be linked to get any kind of government subsidy in a bank account, SBI said.
Ads by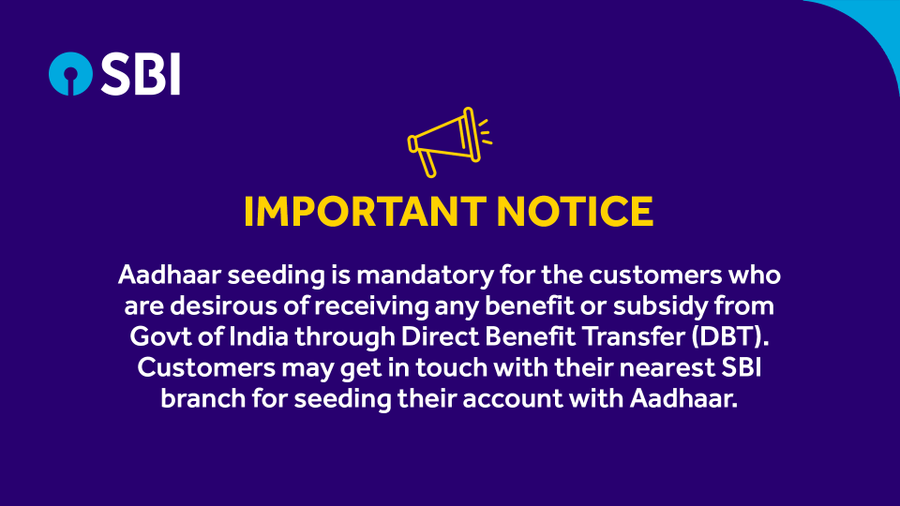 Required for people receiving direct benefits from the Government of India
Contacting customers at the nearest SBI for seeding
Savings accounts can be linked to Aadhaar from the 4th
Need to link support
State Bank of India has issued a new alert for its customers. SBI said it was necessary to link Aadhaar to get any kind of government subsidy in a bank account.
PM Modi said we have become a cashless economy, the actress said - this is an honest ...
The average price of petrol in the world is Rs 75, the cheapest in this country at less than Rs 2
The fun of the match will be ruined if you don't do this work first after getting the ticket for Motera Stadium
Inevitable for consumers seeking subsidies
SBI tweeted, "We would like to inform our customers that seeding / linking of Aadhaar number in a bank account is mandatory for those customers who want to avail any kind of benefits or subsidy through Direct Benefit Transfer from Government of India." The bank also said that customers should contact the nearest SBI for Aadhaar number or seeding in the account.
ગુજરાતીમાં વાંચવા અમાતે અહી ક્લિક કરો
Also an order of the Supreme Court
It may be mentioned that as per the order of the Supreme Court, it is mandatory to link the bank account with Aadhaar but if you want to get government subsidy in the bank account, you have to add your Aadhaar number in the account. However, the government has asked the bank to ensure that every bank account is linked to the customer's Aadhaar number by March 31, 2021. SBI's savings account can be linked to Aadhaar from 4th. From Internet Banking, to ATMs, to SBI Enware App and to branches. You can choose any of these options.